DMS Essentials 3 axis low-rail, open format, moving gantry CNC router "Pinnacles" is ideal machinery for woodworking, sign-making, automotive, aerospace and manufacturing factories cutting wood, aluminum, composites, plastics, acrylics and foam.
DMS 3 axis CNC machine base features a stationary router table, 18 inches of Z axis stroke, Fagor servo drives, plus a Fagor CNC system. Various Hiteco spindle motor and Becker vacuum pump options are available, as well as many customizable features. DMS custom machine build time is an average of 4-6 weeks. DMS Pinnacles CNC machine package price starts at $40,000.
DMS Pinnacles Standard Features
DMS Essentials CNC router line
3 axis moving gantry CNC router
Stress-relieved rigid steel frame
Aluminum router table w/ machined vacuum plenum
18 inches of Z axis stroke
16 hp / 12 kW Hiteco electrospindle
Ionic air blast / Anti-static bit blow off
Fagor 8065 / 8070 CNC system controller
Ethernet TCP/IP, USB & serial port connections
Dual-Core Windows 10 processor
Fagor industrial AC servo motors & amplifiers on all axes
Rack and pinion design
3 axis spindle motor dust collection hood
Manual lubrication 
Sealed electrical cabinet with A/C
All axes laser calibrated
M04 M-Code for counter clockwise spindle rotation
Compressed air requirements – 10 CFM at 95 PSI
460-480 V standard 3 phase power (other voltage options available)
DMS Router Table Size Options
5 ft. x 10 ft.
5 ft. x 12 ft.
5 ft. x 15 ft.
5 ft. x 20 ft.
5 ft. x 25 ft.
6 ft. x 20 ft.
7 ft. x 10 ft.
7 ft. x 14 ft.
8 ft. x 20 ft.
10 ft. x 10 ft.
10 ft. x 15 ft.
10 ft. x 20 ft.
10 ft. x 25 ft.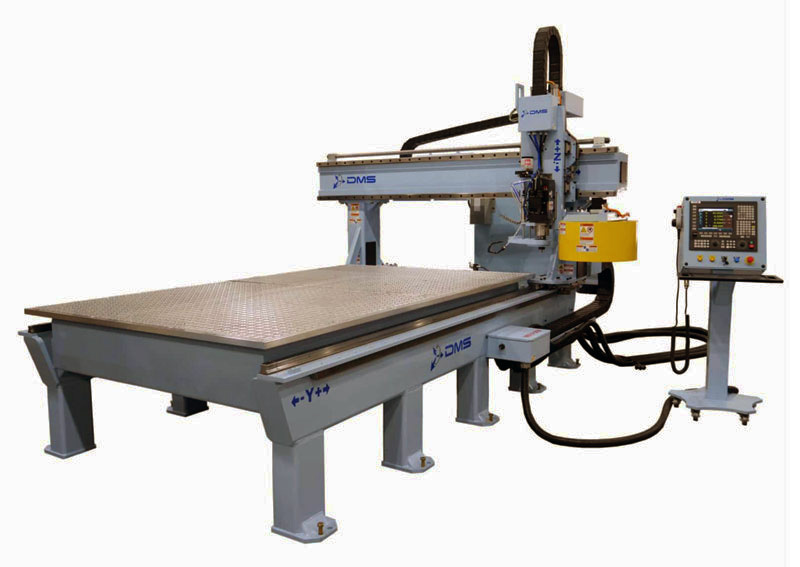 Customizable CNC Machine Features & Upgrades
Custom table size available
Custom stroke axes options up to 48 inches
Teach pendant
Hiteco spindle motor options
Automatic tool changer
Tool height sensor
Automatic lubrication system
Becker Vacuum vacuum pump options
Custom axes configuration available
DMS CNC Router Support
CNC router installation & set-up
Factory employee training
Free technical phone support
1 Year limited DMS warranty
Parts warranty included
DMS Support, Services & Sales
DMS CNC router support is available. In addition to CNC router sales, Our team offer a wide range of CNC router services to support your router purchase. CNC services include supervising rigging, router installation, commissioning, laser aligning, troubleshooting, operator training, and routine maintenance.
In addition, our CNC parts department stocks replacement DMS router parts to keep your company's machines in production. In-stock DMS parts inventory ranges from controller parts, spindle motors, vacuum pumps, servo motors & servo drives, to VFDs and more.