DMS Essentials 3 axis low-rail, open format, moving gantry CNC router "Pinnacles" for sale. DMS 3 axis CNC machine base features a stationary router table, 18 inches of Z axis stroke, Fagor servo drives, plus a Fagor CNC system. Various Hiteco spindle motor and Becker vacuum pump options are available, as well as many customizable features.
DMS 3 Axis CNC Machine Specifications
Aluminum router table w/ machined vacuum plenum
18 inches of Z axis stroke (additional upon request)
Helical rack & pinion design on the Y axis
Fagor AC Digital Sercos servo drives
Fagor 8070 CNC system controller
Spinning ball nut on stationary ball screw assembly
Absolute feedback encoders on all linear axes
3 axis spindle motor dust hood
Stress-relieved steel frame
3-phase power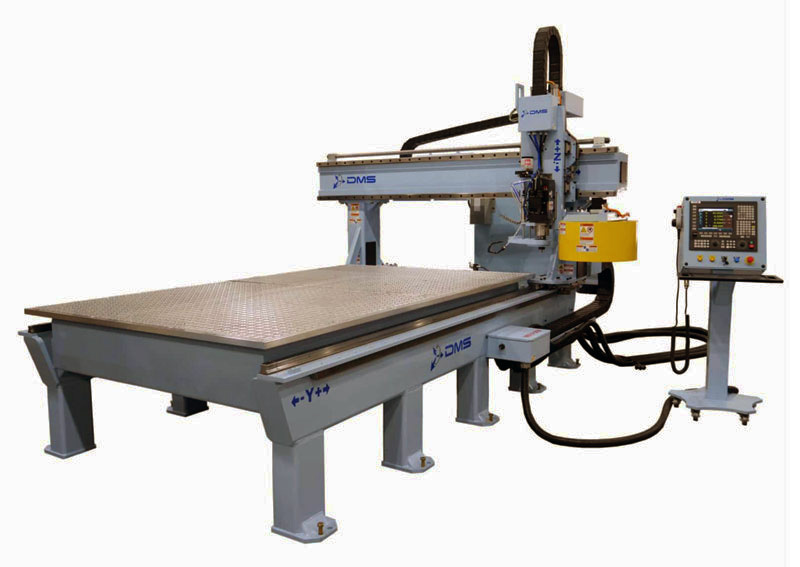 Customizable CNC Machine Features
Various Hiteco spindle motor options available
Up to 48 inches of Z axis stroke
Touch screen monitor
Tool height sensor
Barcode reader
Custom workspace travels
Automatic tool changer
Automatic lubrication system
Becker Vacuum vacuum pump options
Sliding tool rack
DMS Router Table Size Options:
5 ft. x 10 ft.
5 ft. x 12 ft.
5 ft. x 15 ft.
5 ft. x 20 ft.
5 ft. x 25 ft.
7 ft. x 10 ft.
7 ft. x 12 ft.
7 ft. x 14 ft.
10 ft. x 10 ft.
10 ft. x 15 ft.
10 ft. x 20 ft.
10 ft. x 25 ft.
Custom table sizes available
DMS Support, Services & Sales
Our DMS support, service and sales team offer a wide range of CNC router services including supervising rigging, router installation, commissioning, laser aligning, troubleshooting, operator training, and routine maintenance. Our parts department stocks replacement DMS router parts to keep your company's machines in production.  In-stock inventory ranges from controller parts, spindle motors, vacuum pumps, servo motors & servo drives, to VFDs and more.
Fill out the form below for more information. Our CNC router sales team will contact you to discuss details including CNC router price, availability, and more. CNC Financing is available. Section 179 Tax Deduction may apply.