Freedom 4 industrial 3 axis 4×4 CNC router with moving gantry is ideal machinery for woodworking, orthodics, sign making, automotive, aerospace and manufacturing factories cutting wood, composites, aluminum, plastics, acrylics and foam.
Freedom 3 axis CNC routers are made in U.S.A. by Diversified Machine Systems. Freedom CNC routers are available with a standard configuration and a variety of customizable options. Configure your Freedom 4×4 CNC router to meet your company's specific needs and application. Lead times for building a new Freedom CNC router average 4-6 weeks.
Freedom 4×4 Standard Features
DMS Freedom CNC router line
3-axis moving gantry CNC router
Rigid stress-relieved steel frame
Single 4ft. x 4ft. phenolic router table
12″ of Z-axis stroke
9″ of clearance under the bridge
10 hp / 7.5 kW Hiteco electrospindle motor
Fagor 8070 OL 3-axis industrial controller with 17″ LCD color monitor
Ethernet TCP / IP, USB and serial port connectivity
Fagor industrial AC servo motors and amplifiers on all axes
Recirculating ball screw assembly on all axes
Dust collection hood for spindle
Manual lubrication
Rapid feed rates of 1,400 inches per minute
M-Code – M04 M-Code for counter clockwise spindle rotation
220 V 3-phase power requirement
Freedom CNC Router Support
On-site machine setup
Factory training for employees
Free technical phone support
Parts warranty included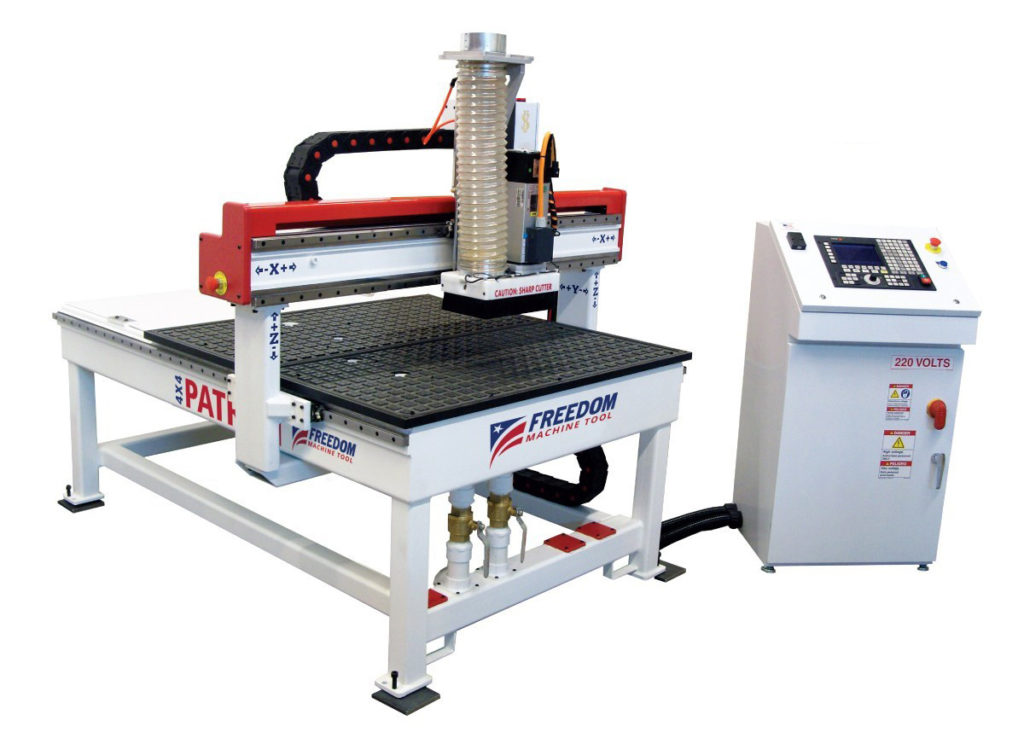 Freedom Customizable Options & Add-ons
4-axis lathe attachment
Hiteco spindle motor options – MTC (manual tool change), ATC (automatic tool change), 5 hp, 9 hp, 10 hp
Spindle motor accessories – tangential knife, tangential oscillating knife, drag knife, aggregate collar, vertical drill bank, spindle drill bank
Table options – vacuum, t slot, aluminum, phenolic
Table accessories
Becker vacuum pump options – 5 hp, 10 hp, 15 hp
Vacuum accessories
Dust collection options
Control options & accessories
Utility options
CAD/CAM software options
Safety options for compliance
Freedom CNC Router Sales, Service & Support
Our team of CNC router experts offer CNC router technical services and after-sales support. CNC router support services we offer our CNC router customers include supervising rigging, commissioning, laser aligning, operator training, and routine maintenance. Our parts department stocks replacement CNC router parts to keep your company's machines in production. In-stock inventory ranges from controller parts, spindle motors, vacuum pumps, servo motors & servo drives, to VFDs and more.
CNC Financing is available. Section 179 Tax Deduction may apply.