Freedom 5′ x 12′ 3 axis CNC router is an industrial quality moving gantry CNC router capable of maximum rapid feed rates of Up to 1400 inches per minute. Freedom CNC routers are available with a standard configuration and a variety of customizable options. A rotary axis lathe attachment can be added to any of the Freedom CNC routers. Our sales team will configure and build your router quote to meet your company's specific needs and application. Freedom CNC routers are made in U.S.A. by Diversified Machine Systems. Lead times for manufacturing a new CNC router are low as 2-3 weeks. Call us for a quote today or submit a request below.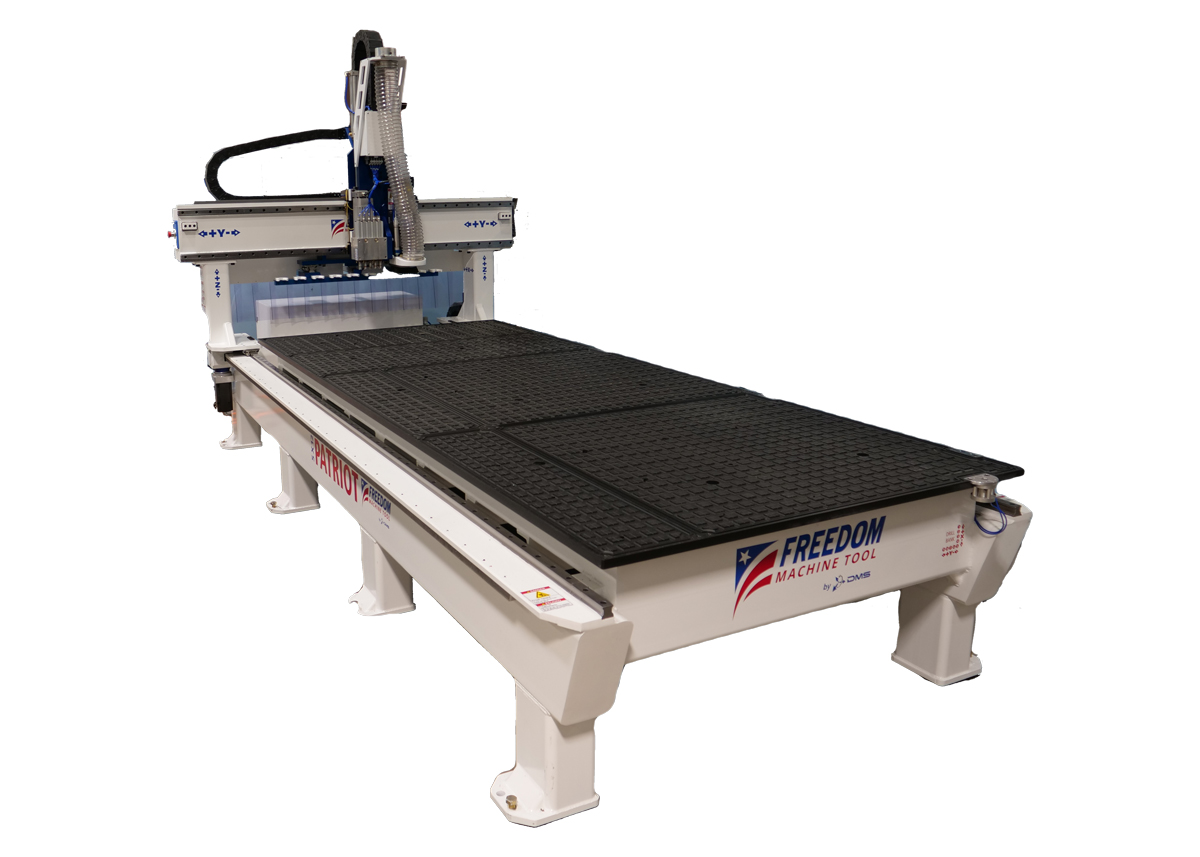 Freedom 5×12 Standard Configuration
Welded steel base & bridge construction
Single 5 ft. x 12 ft. router table
3 axis moving gantry design
7 inch Z axis stroke
Fagor 8037 CNC system control, 7.5″ color CRT monitor
Fagor industrial AC servo motors and amplifiers on all axes
Ethernet TCP/IP, USB and serial port connectivity
25mm profiled rails on all axes
Precision ball-screws on all axes
Lead screw drive assembly on all axes
Dust collection hood for spindle
CNC Training & Technical Support Service Available
On-site machine setup
Factory training for employees
Technical phone support
Freedom CNC Router Customizable Options & Add-ons
4-axis lathe attachment
Spindle motor options – MTC (manual tool change), ATC (automatic tool change), 5 hp, 9 hp, 10 hp
Spindle motor accessories – tangential knife, tangential oscillating knife, drag knife, aggregate collar, vertical drill bank, spindle drill bank
Router table options – vacuum, t slot, aluminum, phenolic
Router table accessories
CAD/CAM software options
Control options & accessories
Utility options
Becker vacuum pump options – 5 hp, 10 hp, 15 hp
Vacuum accessories
Dust collection piping system (dust collector not included)
Safety options for compliance
Power converter to 220 V / single phase
480 to 220 Transformer
Unist Mist Coolant System
DMS Freedom 5' x 12' with 12" Z model pricing starts at $79,650.00. Base price includes machine, flat phenolic table, Fagor controller, jog wheel, auto tool height sensor, 5 hp collet / manual spindle, dust collection hood. Excludes shipping, training, and setup.
Freedom CNC Router Sales, Service & Support
Our team of CNC router experts offer CNC router technical services and after-sales support. Financing options are available. Contact our CNC sales team for more information about new Freedom CNC routers. Call (858) 922-4967 or use the form below.