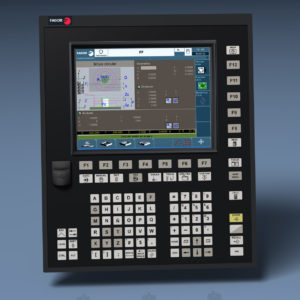 Read Frequently Asked Questions below regarding Fagor CNC upgrade and retrofit service.
Fagor Automation CNC Upgrade
Our CNC router technicians are Fagor Automation Factory Authorized Integrators and world distributors of Fagor CNC replacement parts. Contact our CNC services sales team today for more information about retrofitting and upgrading your company's CNC router machinery with the lastest in Fagor Automation CNC system controller technology.
Fagor CNC Retrofit Frequently Asked Questions
What is a Fagor CNC retrofit?
Fagor CNC upgrade and retrofit service replaces out-of-date CNC router controllers with the latest in Fagor Automation CNC system technology. Enjoy faster processing, ethernet connectivity, and more storage capacity. Upgrade your CNC machinery with a genuine Fagor Automation CNC system controller today. 
What is the lead time for a Fagor CNC retrofit?
Normal lead time is 2 weeks. New Fagor controllers are normally in stock. We can usually be on site to perform CNC retrofits within 2 weeks of your quote request.
How many days does the CNC retrofit take to complete?
Fagor CNC retrofits usually take 3-8 days to complete, during which time your machine will be out of operation.
What is the cost of a new Fagor CNC retrofit?
Cost varies. The actual dollar amount depends on the Fagor CNC options you choose. We can provide a prompt quotation once we know more about your specific application. We offer the controller, installation and training.
How long does it take to learn how to operate the CNC controller?
One day. We will stay on site until your main operator is comfortable downloading and running a program. It usually takes one day of training.
Will I be able to run my old programs on the new Fagor controller?
Maybe. Programs written for 3 and 4 axis machines are relatively easy to transfer to the Fagor controller. If your shop runs 5 axis programs, there will be some manipulation required. In some cases it may be easier to start with the computer model and post it with a Fagor specific post processor. Fagor offers a conversion program to update low level NC code from older Fagor controllers to 8055 CNC language.
Do you offer a post processor for the Fagor CNC?
Yes. We have programming capabilities and resources to customize a 'post processor' for your machine. The cost of programming varies and can range from $500 to $2000.
Is there a warranty on the Fagor CNC system?
Yes. Fagor Automation offers one year warranty on controller parts, if due to a manufacturer's defect.
What if I have more questions about CNC retrofits?
CNC Services Inc. offers free telephone troubleshooting support to all of our customers. Call us today for more information about Fagor CNC retrofits.
Request More Information About Fagor CNC Retrofits
Contact our skilled CNC services team for more information about scheduling Fagor CNC retrofit services for your company's machinery.