THIS CNC ROUTER IS NO LONGER AVAILABLE.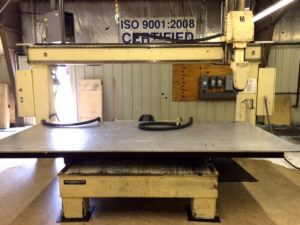 Motionmaster 5 axis CNC router features:
Single 6ft. x 12ft. moving router table
36 inches of stroke
7hp Perske dual ended spindle motor
Allen-Bradley 9/Series CNC controller
Handwheel not included
440V / 3 phase power
Under power
Reference #E471
Location: Midwest USA
Request a Motionmaster CNC Router Quote Today!
For information about used CNC routers available at CNC Parts Dept, contact our office direct at (858) 922-4967 or fill out the form provided.