THIS CNC ROUTER IS NO LONGER AVAILABLE.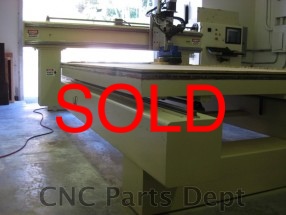 Used AutoRout 3 axis CNC router features:
Made in 1990's
5ft. x 8ft. vacuum router table
6 inches of stroke
ATC Colombo spindle motor
4 position tool change rack
Air conditioning unit cools the cabinet
Includes a 5hp dust collector
Reference #C217
CNC Router Quote Request
For information about used CNC routers available at CNC Parts Dept, contact our office direct at (858) 922-4967 or fill out the form provided.