THIS CNC ROUTER IS NO LONGER AVAILABLE.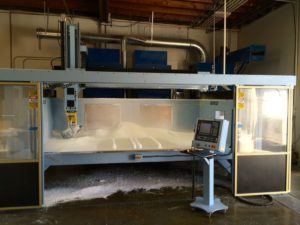 Used CNC router features:
DMS (Diversified Machine Systems) brand
5 axis CNC router type
New in 2008
Model# 505-10-5-48SCOLRx
Single 5ft x 10ft. vacuum table, gantry style
48.5 inches of stroke
ES919 ATC HSD spindle motor
12 position automatic tool changer
Fagor 8055-M CNC system w/ handheld remote
Glentek digital drives
Vacuum pump included
Reference #E380
Used CNC Router Quote Request
For information about used CNC routers available at CNC Parts Dept, contact our office direct at (858) 922-4967 or fill out the form provided.