Thomson Linear Bearings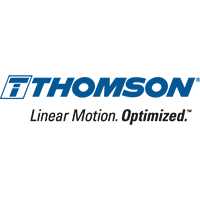 Thomson linear bearings available are Super Pillow Blocks. Super Ball Bushing pillow blocks are available in closed, adjustable and open styles in both single and twin versions. These are the original, self-aligning, precision, anti-friction linear bearing with load capacities up to 4,000 lbf and speed up to 10 ft./sec (3 m/s).
Thomson Linear Bearing Features
The Super Ball Bushing bearing is self-aligning, lightweight and adjustable with a low coefficient of friction.
The wear-resistant, engineered-polymer retainers and outer sleeves reduce inertia and noise in critical, high speed applications.
Radially floating bearing plates. When installed in an adjustable housing, the Super Ball Bushing Bearing may be adjusted to a specific diametrical fit-up for accurate and repeatable movement.
Showing all 7 results
CNC Parts Dept., Inc. Supports American Manufacturing
We strive to keep our customers up and running. Our goal is to shorten any production downtime as much as possible. If you have any questions, please call our San Diego office direct at +1 (858) 922-4967 or send us a message on our website. Our office hours are 6:00 AM – 4:00 PM P.S.T. Monday – Friday.