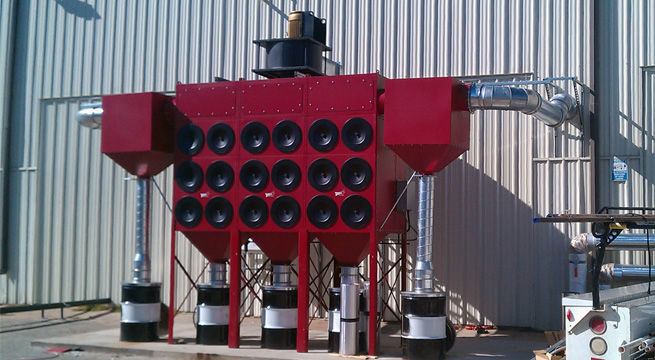 Micro Air Roto-Pulse Dust Collector Systems are considered unmatched in performance, quality and value. Roto-Pulse dust collection systems utilize cartridge filtration.
Micro Air dust collectors are available in a large range of configurations to meet the requirements for capturing harmful contaminants generated in a multitude of industrial processes. Our CNC router service technicians can help specify the correct dust collection solution for your company's CNC router machinery application.
Unmatched Cleaning Efficiency
Micro Air dust collectors are engineered for powerful filtration at lower total costs. The exclusive Roto-Pulse cartridge cleaning system cleans more filter area, lengthens filter life, reduces maintenance costs, and uses less compressed air than typical back flush systems.
Lower Energy Needs
Micro Air dust collectors help you conserve costly resources. The Roto-Pulse system requires less compressed air, and each unit incorporates an energy efficient EPACT motor. The amp load is smaller, and voltage requirements are less restrictive.
Small Footprint
Our compact design allows you to locate dust collectors in virtually any area.
Ear-Friendly Operation
Walk by a Micro Air dust collector, you won't hear the telltale BANG! of a competitor's cartridge cleaning system. Roto-Pulse is much quieter, by up to 15 dba, depending on the type of pulse system used.
Request Micro Air Roto Pulse Dust Collector Information
Contact our CNC parts sales team for more Micro Air Roto Pulse Dust Collector information.