Fagor 8060 CNC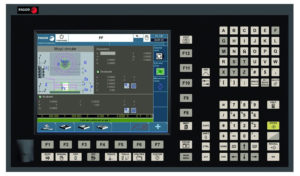 Fagor 8060 CNC system is designed for high speed machining centers, precision mold making and more. These controllers are used in industries like automotive and aerospace.
The Fagor 8060 has a touch screen and high definition graphics. More than 500 Mb of memory is included as standard in all CNC models. The Fagor is expandable via compact flash. Also included is a free Fagor CNC simulator for use on a PC.
Fagor 8060 CNC System Parts
There are various Fagor CNC parts available to order in our shop including LCD vertical monitors, JOG panels, I/O boards, CAN cables and more. Contact our sales team for more information. Ask us about Fagor CNC controller retrofit solutions and upgrade options.
Showing all 9 results
Fagor 8060 CNC System Features
Supports 3-6 axes
Ethernet communication port
800MB to 2GB Memory
Up to 32GB Compact Flash
2 USB ports for compact drives
Block processing time 1 ms
Look-ahead blocks 300
Smooth and accurate HSSA machining
Tandem Axes
Canned cycles
Windows 7 Based
Can run a simulation of the part
Part execution time estimation
Background programming
Alphanumeric file names
CNC Services Inc remote access and remote back-ups
Works with DC or AC digital servo drives with encoder output
Dynamic Machining
Optional 10" touch screen
Fagor Automation CNC Systems
Fagor Automation has been developing automation and control systems for over 30 years. Fagor Computer Numerical Control Systems are used for machine tools and manufacturing CNC's, servo drives, servo motors and feedback systems. Fagor CNC systems are commonly in use by  industrial CNC router machines including Motionmaster, DMS (Diversified Machine Systems), Freedom Machine Tool, Royce, Quintax, Ganesh (GT, GMV & GBM series) and similar brands.
Fagor Automation Factory Authorized Integrator
CNC Parts Dept, Inc. is a Fagor Automation Factory Authorized Integrator (FAI) and world distributor. Our CNC service technicians offer Fagor CNC tech support nationwide. In addition to technical support for Fagor CNC systems, our skilled engineers at CNC Services Inc. can provide many additional CNC services including machine upgrades and Fagor CNC controller retrofits.
CNC Parts Dept., Inc. Supports American Manufacturing
We strive to keep our customers up and running. Our goal is to shorten any production downtime as much as possible. If you have any questions, contact us by phone or send us a message on our website. Our office hours are 6:00 AM – 5:00 PM PST Monday – Friday.