Fagor 8050 CNC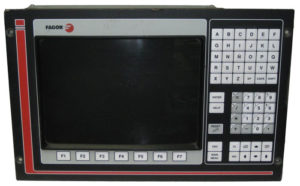 Fagor 8050 CNC system is composed of the central unit, monitor, keyboard and the operator panel. The controller can be programmed both at the machine (from the front panel) or from external peripheral devices (tape reader/cassette recorder, computer, etc. Memory available to the user for carrying out the part programs is 128 K, expandable to 512 K.
Fagor 8050 Controller Parts
Although this is an obsolete controller, we carry most replacement parts for 8050 CNC system. We recommend stocking up on spare parts to avoid downtime. Ask us about upgrading your Fagor 8050 controller to a Fagor 8055i CNC.
Showing 1–12 of 22 results
Fagor Automation CNC Systems
Fagor Automation has been developing automation and control systems for over 30 years. Fagor Computer Numerical Control Systems are used for machine tools and manufacturing CNC's, servo drives, servo motors and feedback systems. Fagor CNC systems are commonly in use by  industrial CNC router machines including Motionmaster, DMS (Diversified Machine Systems), Freedom Machine Tool, Royce, Quintax, Ganesh (GT, GMV & GBM series) and similar brands.
Fagor Automation Factory Authorized Integrator
CNC Parts Dept, Inc. is a Fagor Automation Factory Authorized Integrator (FAI) and world distributor. Our CNC service technicians offer Fagor CNC tech support nationwide. In addition to technical support for Fagor CNC systems, our skilled engineers at CNC Services Inc. can provide many additional CNC services including machine upgrades and Fagor CNC controller retrofits.
CNC Parts Dept., Inc. Supports American Manufacturing
We strive to keep our customers up and running. Our goal is to shorten any production downtime as much as possible. If you have any questions, contact us by phone or send us a message on our website. Our office hours are 6:00 AM – 5:00 PM PST Monday – Friday.