THIS CNC ROUTER IS NO LONGER AVAILABLE.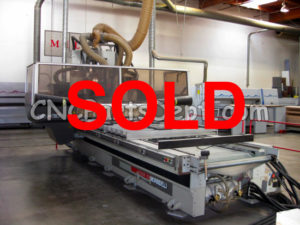 Used Morbidelli Author 700 3 Axis CNC Router features:
New in 1997
Point to Point CNC Machining Center
126 in. x 66 in. pod and rail work area
7 inches of Stroke
Morbidelli controller
15hp spindle motor with 10 tool ATC carousel
9hp spindle motor
4hp spindle motor with 29 independent boring heads, both horizontally and vertically mounted
Reference #C186
CNC Router Quote Request
For information about new and used CNC machines available at CNC Parts Dept, contact our office direct at (858) 922-4967, or fill out the form provided.